Mallika Bhanot Gupta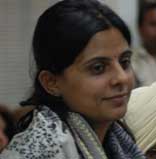 Mallika Bhanot Gupta is an extensively experienced prenatal yoga therapist who has been teaching yoga for the past 12 years. Since a young age, yoga has been an integral part of her life. She is having comprehensive traditional knowledge of yoga practice and principles. Under the guidance of her guruji, she has been able to become a humble seeker and also learnt the Indian scriptures.
It is her passion for traditional Indian philosophies & sciences that led her to shift from being a student of Microbiology to study the science of yoga as a therapy.
She did her Masters in
Yoga Therapy (M.Sc)
from Kasturba Medical College, Manipal, India. She has been actively involved in the promotion and propagation of therapeutical applications of yoga.
She has rendered her services to the various corporate houses in India to promote the productivity of the workforces and to improve the lifestyle of the employees.
She recognizes that, the pregnancy is one of the most challenging yet the most delightful phases for a woman. Her experience and knowledge to understand the intricate knowledge of the body and the deep understanding of yoga has been the biggest asset in carrying out the prenatal yoga sessions. She is now pursuing her P.hd in Yoga therapy alongside her work.
Mallika has been contributing her writings to various magazines regularly as a nutritionist and wellness expert.
She is prominent environmental activist, actively involved with public forum working towards the cause of preserving the natural flow of the Ganga as a member of Ganga Ahvaan.
It is the privilege of Ojashvi Yoga Shala in Rishikesh to have such an experienced teacher to share her knowledge with our course students.
Yoga teachers
of Ojashvi Yoga Shala will be taking part in this prenatal yoga teacher training with Mallika Bhanot Gupta.