500 Hours Residential Hatha Yoga Teacher Training
programme of Ojashvi Yoga Shala, Rishikesh is a comprehensive Yoga Teacher Training Programme Ojashvi Yoga Shala is one of the few reputed registered yoga schools in India to organize such a comprehensive yoga teacher training course in Rishikesh. This advanced yoga course is a special opportunity to explore to the various Yoga traditions and sadhana in India. Students will learn and be familiar with modern Indian yoga masters and their contributions to the field of yoga.
For an earnest seeker in the practice of yoga, RYS 500 Programme of Ojashvi Yoga Shala will be contributing to enhance the special skills sets of yoga teachers in the specialty area such as yoga for pregnancy and therapeutic yoga.
The regular practice of yoga for a period of 10 week at one place under the guidance of the Ojashvi Yoga teachers will help to deepen the personal yoga practice, teaching skills. This will also enforce the strong foundation for the path of yogic practices such as asana, pranayama, meditation and relaxation techniques including the comprehensive understanding of principles and philosophy of ashtanga yoga and hatha yoga in a peaceful, conducive yoga training environment in Rishikesh, which is one of most sought out yoga teacher training destination in India.
500 Hours Hatha Yoga Teacher Training programme in India is an excellent learning opportunity to study the curriculum of
200 Hours Hatha Yoga Teacher training course
and the advanced level
300 hours Hatha Yoga Teacher training course
continually at one place in Rishikesh with Ojashvi Yoga Shala.
This yoga training is designed for beginners as well as early intermediate practitioners of yoga. The training course includes modules of foundational level to the advanced level practices of asanas, pranayama, bandhas, mudras & meditation.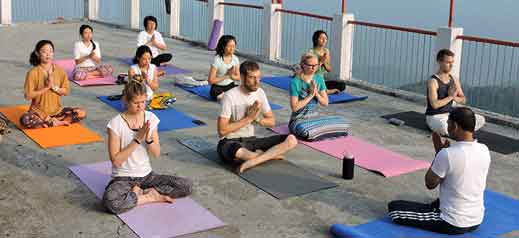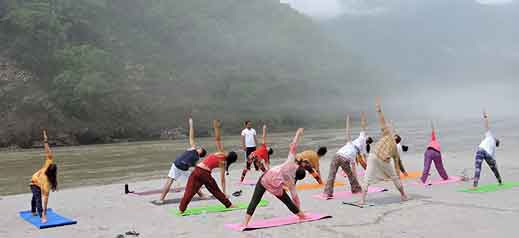 Recognition of the TTC
500 Hours Hatha Yoga Teacher Training Course
of Ojashvi Yoga Shala in Rishikesh is recognized by Yoga Alliance USA and incorporates the standards of Yoga Alliance 500 hrs Training program.
Certification
Successful trainees of 500 Hours Yoga Teacher Training programme are eligible for the certificate of RYT 500 designation from Yoga Alliance USA.
TTC Duration :
10 Week
The program is suitable for/Prerequisites
This comprehensive level Yoga teacher training programme is designed for the beginners level to immersed practitioners of yoga having aptitude and interest in teachings of yoga.
Eligible candidates must be capable to demonstrate the sound physical and mental health
This training course is well suited for the people above the age of 18 years
Maximum Batch Size :
12
The purpose of the micro group is to ensure quality teaching so that the participant is able to understand the principles and practical techniques effectively to be a qualified yoga teacher.
500 Hours Hatha Yoga Teacher Training Course Syllabus
The Course Curriculum of
"500 Hours Hatha Yoga Teacher Training Course"
Consists of the Structured combined Syllabus of RYS 200 Hours and RYS 300 Hours Syllabus including the techniques and practice of Shatkarmas (Cleansing Techniques) Asanas (Posture) Pranayamas, Bandhas Mudras, Relaxation techniques and Meditation & Mantra Chanting etc. The curriculum of the course and its teaching modules are carefully selected and sequenced to develop the structured progressive approach ensuring the fundamental foundational study of yoga as well as its applications through the advanced study. The syllabus is containing deeper philosophical and practical aspects of the yoga subject with emphasis on the allied sciences including principles and therapuetical applications of yoga.
Read More about Syllabus
Teaching Team
The training programme is backed by a team of well experienced and qualified yoga teachers who have several years of personal practice as well as teaching experience. Their skills, expertise and work experience along with compassionate approach makes the learning an experience of joy. Our teachers are dedicated themselves in ensuring safe practice and effective learning so that each of the participants can feel and experience a supportive and nurturing environment.
Read More about Teachers
Teaching Opportunity
Advanced level training of the trainees of will be having the opportunity to teach Yoga to the students of
RYS 200 Yoga Teacher Training Programme
.
Learning Facilities
Study material is provided in addition to the learning resources of the school including library services to enhance the effective learning experience of the training course.


500 Hours Yoga Teacher Training - Daily Schedule
The schedule may be subjected to any changes/modifications to meet the particular requirements during the course time.
| | |
| --- | --- |
| 6.00 AM - 7.30 AM | Sun salutations & Asana Practice |
| 7.45 AM - 8.00 AM | Tea Break |
| 8.00AM - 9.00 AM | Pranayama |
| 9.00 AM - 11.00 AM | Breakfast and Self Study |
| 11.00 AM - 12.00 PM | Yoga Philosophy |
| 12.30 PM - 1.30 PM | Lunch Break |
| 2.15 PM - 3.15 PM | Applied Yoga |
| 3.15 PM - 4.15 PM | Meditation/Yoga Nidra/ Mantra Chanting |
| 4.15 PM - 4.45 PM | Evening Tea break |
| 4.45 PM - 5.45 PM | Anatomy and Physiology |
| 5.45 PM - 6.45 PM | Teaching Methodology |
| 7.00 PM | Dinner |
500 Hours Hatha Yoga Teachers Training in Rishikesh, India - Overview
Comprehensive, in depth hatha yoga teacher training in Rishikesh designed to suit the needs of different levels.
Maximum batch size limited to 12 members to ensure quality teaching and personal attention.
The training programme is backed by a team of well experienced and qualified yoga teachers.
Affordable Fees - Includes tuition, food and accommodation Costs
Internationally valid certificate of RYT 500 designation, accredited with Yoga Alliance USA.
Teaching opportunity- To share the teaching experience with the students of RYS 200 Yoga Teacher Training Programme.
500 Hours Yoga Teacher Training - Testimonials

David Casey (United States of America)
I had a wonderful experience, the instructors taught with a lot of passion and I liked their teaching style. The food was excellent and felt well taken care of at the café. The hotel was good and had hot water most of the time. I truly appreciate the teachers and training at the school. My experience is very positive .

Benjamin Aguilar Zepeda (Mexico)
Ojashvi yoga school is for people who want to see under the Orange robe, as my classmate would say this school offers one the opportunity to be trained and become a true yogi. Furthermore, our teachers at Ojashvi helped to remind that it is our own experience that defines our path and this is coming from someone who considers his own practice as being very simple, humble and coming from the heart. The small class size allowed for attention to detail, teaching and learning and everybody it is looking for an experience.
Shari Lawrence Hodges (United Kingdom)
Huge support from teachers, always open to explaining further and in depth to our understanding, Positive energy/support from the team/company since booking and communicating via mail.
500 Hours Yoga Teacher Training Course 2019
Date

Course

Fee

Bookings Open

Apply | Book Now

30th Sep 2019 To 08th Dec 2019


Early Bird Discount *

500 Hour Yoga Teacher Training
US$ 2950
Register | Book Now
* Book 3 Months in Advance 150$ OFF + FREE Airport Pickup from Dehradun Airport
* Book 2 Months in Advance 150$ OFF
* Terms and Conditions Apply

Inclusions
500 Hours RYT Certificate
Yoga techniques, training and practice (Monday through Saturday)
10 Week accommodation in private room with attached bathroom having hot and cold running water
Daily Three Times wholesome vegetarian meals during the course
Guidance and assistance for local sight seen of tourism interest
Extra Curricular activities such as short mountain trekking, river rafting, etc. depending upon seasonal feasibility
Exclusions
Other expenses of personal nature
Airport pickup and return transfer (can be arranged on request at extra cost)
Anything not specifically mentioned in Inclusions