Ojashvi Yoga Shala is Yoga Alliance registered yoga school in Rishikesh, India. Rishikesh is popularly known as the world capital yoga, place loved by many yoga practitioners around the world and one of the most affordable place for the teacher training course in the world with the teachings of the authentic message of yoga right at the source.
The school is located in Swargashram area of Rishikesh on the pristine banks of the sacred river Ganges surrounded by verdant nature of the Himalayas amidst the dense forest filled with greenery and abundant spiritual energy. The calmness and serenity o f the place make it as one of the perfect place for your yoga journey. With its excellent infrastructure facilities and experienced teaching team the school is recognized as the premier Yoga Teacher Training Institute in Rishikesh.
200, 300 and 500 Hours Ojashvi Hatha Yoga Teacher Training Courses, approved with yoga alliance, are designed to deepen your personal practice in a safe and supportive learning environment under the guidance of well qualified and extensively experienced professional yoga masters. You will get an opportunity to experience and explore the ancient wisdom of yoga and its teaching techniques in the modern times to begin your carrier as competent yoga teacher with international teaching credentials.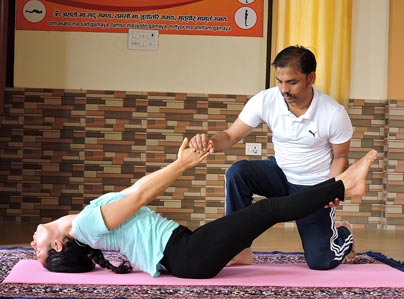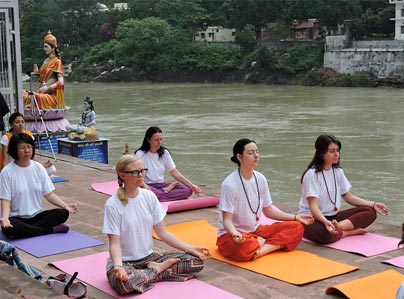 The science and art of yoga is a means of developing the synchronization of the mind and body which is nothing but the harmony in life. Yoga teacher training in Rishikesh, India will be a path to enjoy this harmony. The courses are of great help in developing the applications of the curriculum for the principles and practices of healthy living to promote your health with holistic approach.
The training helps you start a journey of gathering valuable knowledge. You can use this knowledge to imbibe wisdom in self and then spread the same throughout the world. You can start as a beginner and become an expert in yoga philosophy and practice. Enhance your practice with increasing the intensity and become empowered to share your experiences from different perspectives. You will also enjoy an experience to explore Indian traditions and its rich heritage.
All the yoga teacher training courses and certifications at Ojashvi Yoga Shala which include the
200 hours, 300 hours, 500 hours YTTC and Pre-natal YTTC
are accredited by Yoga Alliance, USA. This enables our disciples to have the credibility to teach yoga anywhere in the world.