Traditional 300 Hours Yoga Teacher Training in Rishikesh
Traditional hatha yoga style based
300 Hours Yoga Teacher Training in Rishikesh
is comprehensive yoga course. The course is designed for the yoga teachers and practitioners who have been trained in RYS 200 Yoga Teacher Training Course.
The growth in the path of yogic life is successfully achieved through constant learning and continued dedicated practice of yoga practices and its principles under the guidance well experienced and extensively qualified yoga masters.
RYS 300 Hours Yoga Teacher Training in Rishikesh is one of the few places for advanced level study of yoga in India. Well qualified and experienced yoga teachers of Ojashvi Yoga Shala share their teachings with compassionate and professional approach.
If you are looking to progress your journey of yoga, both for personal practice and professional development, perhaps this yoga teacher training in India is:
An excellent opportunity to reinforce the foundational knowledge of yoga.
A means to the deeper understanding of the yogic principles and its philosophical teachings.
One of the best occasions of the life to master the advanced techniques of yoga such as asana, pranayama and meditation etc.
A chance to gain more practical and teaching experience in yoga.
Classical curriculum of
Hatha Yoga
of traditional yoga texts forms the traditional basis of yoga. Eminent Indian Yoga masters nurtured the development of this subject through the different yoga traditions in India.
RYS 300 Syllabus
of this advanced level yoga teacher training program incorporates these teachings in its philosophical teachings as well as practical methodologies to provide the broad picture of yoga in its traditional approach.
One of the distinctions of the course is the focus on concepts of health and therapeutics of yoga. The practices of Yoga offer a range of health benefits. Students will learn these concepts. They will also learn Ayurveda, diet and nutrition as well as the therapeutical applications of yoga practices and principles to adopt yoga as therapy through the preventive, promotive and curative aspects of yoga as natural health care measures. The teacher training modules cover the topics on prenatal Yoga to enhance the special skill sets of the course trainees to learn the yoga for pregnancy, Students are explored to know the principles and practices of Yoga for stress management and other lifestyle disorders.
Recognition of the TTC
300 Hours Hatha Yoga Teacher Training Course of Ojashvi Yoga Shala in Rishikesh is recognized by
Yoga Alliance USA
and incorporates the standards of Yoga Alliance 300 hours yoga training program.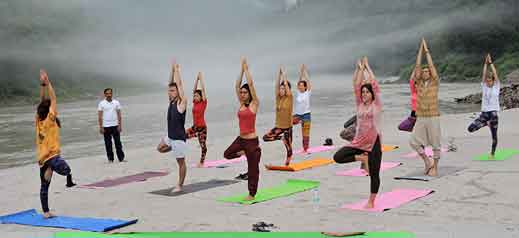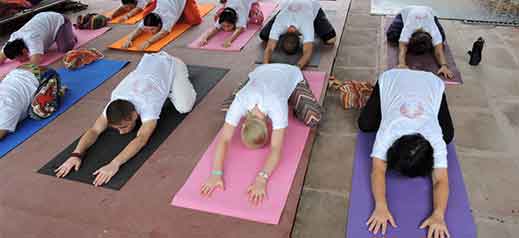 Certification
The course trainees/graduates are
eligible
for the certificate of RYT 500 designation from Yoga Alliance USA.
TTC Duration :
06 Week
The program is suitable for/Prerequisites
This advanced level Yoga Teacher Training Programme is designed for the immersed practitioners of yoga having certification of approved
200 Hour Yoga Teacher Training
(RYT 200 hours training) from any of the RYS around the world designated by the Yoga Alliance USA
Eligible candidates must be capable to demonstrate the ability to teach core yoga poses and basic sequencing.
This yoga training course is well suited for intermediate and advanced level yoga students
Maximum Batch Size :
12
The purpose of the micro group is to ensure quality teaching so that the participant is able to understand the principles and practical techniques effectively to be a qualified yoga teacher.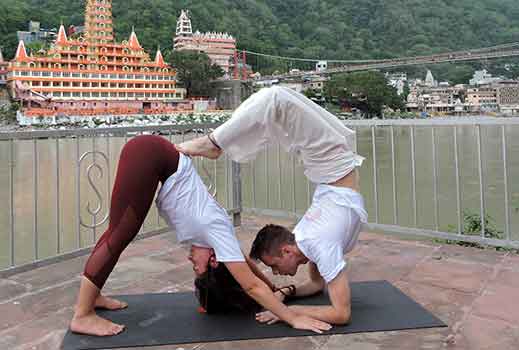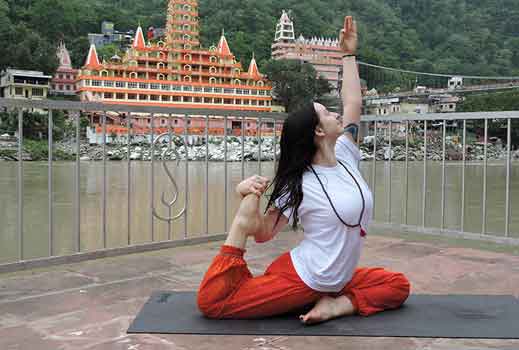 300 Hours Hatha Yoga Teacher Training Course Syllabus
The course curriculum of
"300 hours Hatha Yoga Teacher Training Course"
consists of the advanced level practice of Shatkarmas (Cleansing Techniques), Asanas ( Posture) Pranayamas, Bandhas, Mudras, Relaxation techniques, Meditation and Mantra Chanting etc. The syllabus is containing deeper philosophical and practical aspects of the yoga subject with emphasis on the allied sciences including principles and therapuetical applications of yoga.
Read More about Syllabus
Teaching Team
The Yoga Training Programme is backed by a team of well experienced and qualified yoga teachers who have several years of personal practice as well as teaching experience, their skills, expertise and work experience along with compassionate approach makes the learning an experience of joy. Our teachers are dedicated in ensuring safe practice and effective learning so that each of the participants can feel and experience a supportive and nurturing environment.
Read More about Teachers
Teaching Opportunity
The trainees of 300 Hours program will be having the opportunity to teach yoga to the students of
RYS 200 Yoga Teacher Training Programme
when the course is available.
Learning Facilities
Study material is provided in addition to the learning resources of the school including
library services
to enhance the effective learning experience of the training course.
300 Hours Yoga Teacher Training Daily Schedule
The schedule may be subjected to any changes/modifications to meet the particular requirements during the course tenure.
| | |
| --- | --- |
| 6.00 AM - 7.30 AM | Sun salutations & Asana Practice |
| 7.45 AM - 8.00 AM | Tea Break |
| 8.00AM - 9.00 AM | Pranayama |
| 9.00 AM - 11.00 AM | Breakfast and Self Study |
| 11.00 AM - 12.00 PM | Yoga Philosophy |
| 12.30 PM - 1.30 PM | Lunch Break |
| 2.15 PM - 3.15 PM | Applied Yoga |
| 3.15 PM - 4.15 PM | Meditation/Yoga Nidra/ Mantra Chanting |
| 4.15 PM - 4.45 PM | Evening Tea break |
| 4.45 PM - 5.45 PM | Anatomy and Physiology |
| 5.45 PM - 6.45 PM | Teaching Methodology |
| 7.00 PM | Dinner |
300 Hours Yoga Teacher Training - Testimonials
Leticia Stivel (Argentina)
The incredible devotion and passion of the main two teachers is very inspiring. The friendly and open atmosphere helps a lot on the learning process. A beautiful surroundings for a nice experience, very comfortable and nothing to worry about.

Jeanne Pouget (France)
Providing books, copies and library. Home work stimulating, Diversity of exams and practices covered. Genuine attitude, respectful approach, knowledge of traditions.

Leandro Lukaszyk (Argentina)
The passion of Nagesh and Naveen is very inspiring. They are very honest and talented and sincere people .I appreciate the excursions we made on Sundays. Ayurveda was very good and interesting, pranayama, meditation and philosophy were my favorite topics .The food and people were very nice . The restaurant and was good and people very nice. I Appreciate the books we were given and preparing essays and presentations was very helpful for the studies.
300 Hours Yoga Teacher Training Course 2019
Date

Course

Fee

Bookings Open

Apply | Book Now

28th Oct 2019 To 08th Dec 2019


Early Bird Discount *

300 Hour Yoga Teacher Training
US$ 1650
Register | Book Now
* Book 3 Months in Advance 100$ OFF + FREE Airport Pickup from Dehradun Airport
* Book 2 Months in Advance 100$ OFF
* Terms and Conditions Apply

Inclusions
300 Hours RYT Certificate
Yoga techniques, training and practice (Monday through Saturday)
6 Week accommodation in private room with attached bathroom having hot and cold running water
Daily three times wholesome vegetarian meals during the course
Guidance and assistance for local sight seen of tourism interest
Extra curricular activities such as short mountain trekking, river rafting depending upon seasonal feasibility
Exclusions
Other expenses of personal Nature
Airport pickup and return transfer (can be arranged on request at extra cost)
Anything not specifically mentioned in Inclusions