Yoga in India is one of the six systems of Indian Philosophy. The references in Indus valley civilizations show that, this spiritual discipline has known history of more than 5000 years. The principles and practices of yoga have significant influence on our mind and body for the health and happiness. Around the world many people are attracted to this ancient discipline to harness the harmony in the life.

21st June is celebrated as International Yoga Day around the world. Considering the significant contribution of yoga for the promotion of global health, harmony and peace, in the month of December 2014, United Nations declared June 21st as International Yoga day which was proposed by Indian prime minister during his address in the general Assembly of the United Nations in September 2014. We can see the reflection of harmony and peace for mankind in the symbol of International Yoga Day.
Rajpath in Delhi witnessed the celebrations of the first International Yoga Day in India with participation of 35,985 participants from 84 nations. This event established two records in the Guinness Book of World Records.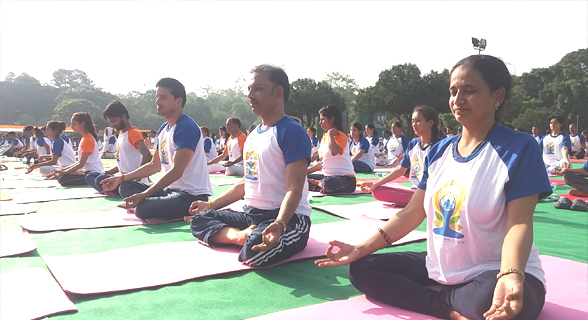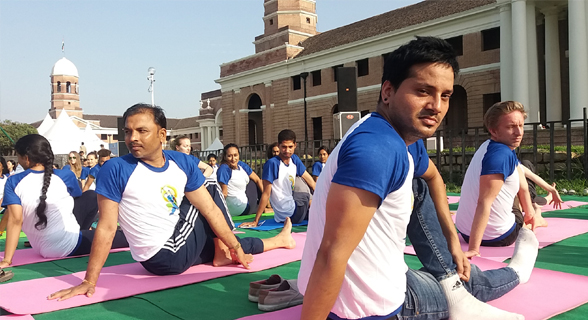 Every year, to promote and propagate the awareness about Yoga various national and international conferences, seminars symposiums, workshops and festivals are organized around the celebration of this annual event. Eminent experts and researchers and the scholars of yoga and allied sciences share their views and disseminate their knowledge to bring the advantages of the principles and practices of yoga for holistic health and wellness.
The hectic researches in yoga and beneficial applications have prompted the policy makers to consider the role of yoga in education. Many Indian Universities are offering the yoga courses ranging from short term to long term durations in order to train the qualified yoga professional to share the health benefits.
Yoga Teacher Training in India
is great opportunity to imbibe the authentic traditional teachings with well qualified and experienced Indian Yoga teachers. In order to join the hands for the propagation and promotion of the subject. Study and practice of Yoga in Rishikesh is memorable and rewarding experience for the trainees in the lap of the majestic Himalayas surrounded by the serenity of the river Ganges.