Ojashvi Yoga Shala, registered yoga school with Yoga Alliance USA offers Residential 200 Hours Traditional Hatha Yoga Teacher Training in Rishikesh, India. This RYS 200 hours yoga program is designed based on the basic principles of yoga philosophy and yogic practices of classical hatha yoga and the elements of Ashtanga Yoga of Patanjali including, the teaching methodologies of the contemporary needs. Hatha yoga is the most popular traditional form of yoga which aims in developing the harmony of the mind and body.

Teacher training course meets the international standards/credentials of yoga teaching and the training modules include, theory, practical, teaching methods and practical training on teaching in yoga to use the competencies and skills needed for becoming an effective yoga teacher.

The aim of this yoga teacher training programme, apart from the competencies and skills of the qualified yoga teacher is to provide an experience which will help in inculcating the healthy lifestyle based on the knowledge of philosophical perspectives and role of yoga in achieving holistic health. This fundamental Yoga Teacher Training in Rishikesh is the stepping stone in the path of personal development.
Recognition of the TTC
200 Hours Hatha Yoga Teacher Training Course of Ojashvi Yoga Shala in Rishikesh is recognized by Yoga Alliance USA and incorporates the standards of Yoga Alliance 200 hours Training program.
Certification
The course trainees/graduates are eligible for the certificate of RYT 200 designation from Yoga Alliance USA.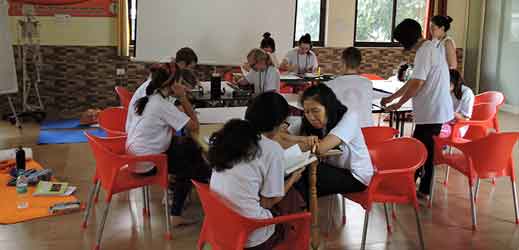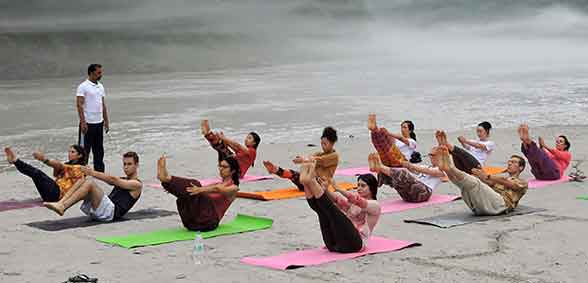 TTC Duration :
One Month (04 Week)
The program is suitable for
Sincere yoga practitioner in search of an environment to focus on deepening their personal yoga practice and looking to learn the skills of teaching in yoga. This course is well suited for beginners and early intermediate practitioners of Yoga.
Maximum Batch Size :
12
The purpose of the course is to ensure quality teaching so that the participant is able to understand the principles and practical techniques effectively to be qualified yoga teacher. This purpose is achieved through a small group which will not be more than 12 participants.
200 Hours Hatha Yoga Teacher Training Course in Rishikesh India - Syllabus
The training programme is a great opportunity to experience the advantages of yoga practices as well as a means to develop yourself as teacher to carry the same to your students with the help of teaching methods of the course.
The syllabus is made to fulfill the above purpose containing philosophical and practical aspects of the yoga subject with emphasis on the allied sciences. The course curriculum of
"Hatha Yoga Teacher Training Course"
consists of the practice of Shatkarmas (Cleansing Techniques) Asanas (Posture), Pranayamas (Breathing Techniques), Bandhas, Mudras, Relaxation Techniques, Meditation and Mantra Chanting etc.
Read More about Syllabus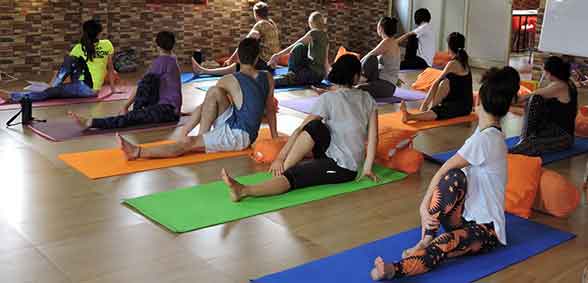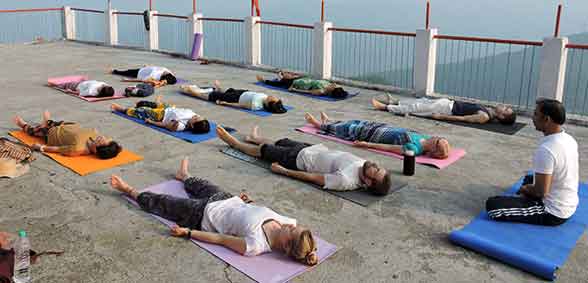 Teaching Team
The training programme is backed by a team of well experienced and qualified yoga teachers who have several years of personal practice as well as teaching experience, their skills, expertise and work experience along with compassionate approach makes the learning an experience of joy. Our teachers are dedicated in ensuring safe practice and effective learning so that each of the participants can feel and experience a supportive and nurturing environment.
Read More about Teachers
Learning Facilities
Study material is provided in addition to the learning resources of the school including library services to enhance the effective learning experience of the training course.

200 Hours Yoga Teacher Training in Rishikesh, India - Daily Schedule
The schedule may be subjected to any changes/modifications to meet the particular requirements during the course time.
| | |
| --- | --- |
| 6.00 AM - 7.30 AM | Sun salutations & Asana Practice |
| 7.45 AM - 8.00 AM | Tea Break |
| 8.00AM - 9.00 AM | Pranayama |
| 9.00 AM - 11.00 AM | Breakfast and Self Study |
| 11.00 AM - 12.00 PM | Yoga Philosophy |
| 12.30 PM - 1.30 PM | Lunch Break |
| 2.15 PM - 3.15 PM | Applied Yoga |
| 3.15 PM - 4.15 PM | Meditation/Yoga Nidra/ Mantra Chanting |
| 4.15 PM - 4.45 PM | Evening Tea break |
| 4.45 PM - 5.45 PM | Anatomy and Physiology |
| 5.45 PM - 6.45 PM | Teaching Methodology |
| 7.00 PM | Dinner |
200 Hours Hatha Yoga Teachers Training in Rishikesh, India - Outline
Suitability:
Beginners and early intermediate practitioners of yoga.
Accreditation:
Accredited with Yoga Alliance USA.
Certification:
RYT 200 Certificate valid for international teaching in yoga.
Location:
Yoga Teacher Training in Rishikesh, India, picturesque location of beautiful mighty Himalayas.
Batch Size:
Maximum up to 12 trainees.
Teaching Team:
Qualified, experienced professional teaching team with compassionate approach.
Affordable Fees:
US$ 1450 includes the costs of the yoga training, food and accommodation in pleasant location.
Facilities:
Excellent infra structure facilities for conducive yoga teacher training in India.
Applications:
Solid foundation in the journey of yoga to enhance the efficacy of the quality of human life experience through its principles and practices.
200 Hours Yoga Teacher Training - Testimonials

Mila Velikova Nikolova (Bulgaria)
200 Hours Yoga Teacher Training Course Rishikesh India
Thank you so much for support and sincerity with which you treated each of us. Also it was extremely kind that you provided us with the study materials and books and mat and bag. Thank you for teaching Kriyas and Pranayama and giving us an opportunity to get confidence in teaching, being in front of a class.

Heng Kim Leng (Malaysia)
200 Hours Yoga Teacher Training Course Rishikesh India
The panel of teachers and lecturers is very knowledgeable and experienced in their own field. Their willingness to share and care and concern especially Nagesh and Rohithaksha upon us helped gone through together experience during our stay here. They harvest themselves as role models for the participants and this is really inspiring to participants and convincing that the yoga pathway definitely fulfilled path way.
200 Hours Yoga Teacher Training Course 2019
Date

Course

Fee

Bookings Open

Apply | Book Now

26th Aug 2019 To 22nd Sep 2019
200 Hour Yoga Teacher Training
US$ 1450
Few Seats Left
Register | Book Now
30th Sep 2019 To 27th Oct 2019


Early Bird Discount *

200 Hour Yoga Teacher Training
US$ 1450
Register | Book Now
04th Nov 2019 To 01st Dec 2019


Early Bird Discount *

200 Hour Yoga Teacher Training
US$ 1450
Register | Book Now
09th Dec 2019 To 05th Jan 2020


Early Bird Discount *

200 Hour Yoga Teacher Training
US$ 1450
Register | Book Now
* Book 3 Months in Advance 100$ OFF
* Terms and Conditions Apply

Inclusions
200 Hours RYT Certificate
Yoga techniques, training and practice (Monday through Saturday)
4 Week accommodation in private room with attached bathroom having hot and cold running water
Daily Three times wholesome vegetarian meals during the course
Guidance and assistance for local sight seeing of tourist interest
Extra curricular activities such as short mountain trekking, river rafting depending upon seasonal feasibility
Exclusions
Other expenses of personal nature
Airport pickup and return transfer (can be arranged on request at extra cost)
Anything not specifically mentioned in Inclusions