85 Hours Prenatal Teacher Training Course Syllabus of Ojashvi Prenatal Yoga Shala Rishikesh.

RPYS Ojashvi Prenatal Yoga Shala has carefully chosen the modules of prenatal yoga teacher training programme based on traditional teachings of hatha yoga with blend of contemporary teachings of world renowned yoga traditions in line with 85 hours standards of Yoga Alliance USA.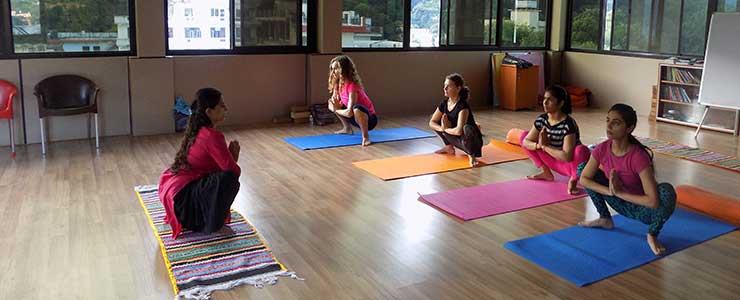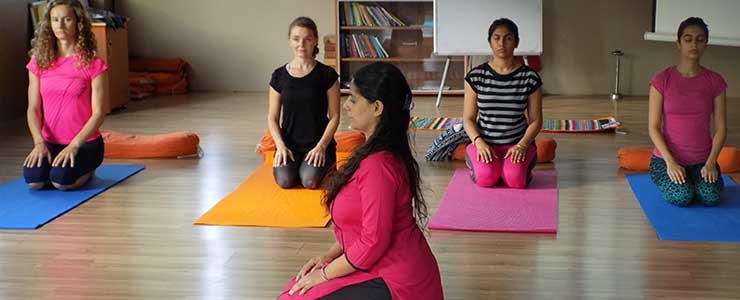 Name of the course
Yoga Alliance certified 85 Hours Prenatal Yoga Teacher Training Course.


Syllabus
The syllabus is made to fulfil the objectives containing philosophical and practical aspects of the yoga with emphasis on the allied sciences. Syllabus of prenatal yoga teacher training course consists of the following.
1. General background in the specialty area
Role of prenatal yoga teacher's relationship with health care professionals in pregnancy
Relevancy of yoga regarding pregnancy issues
Psychological considerations during pregnancy
Assessment of high-risk and non-high-risk pregnancy as well pregnancy related general complications
2. Prenatal techniques, training and practice
The daily practical training of teacher training program includes yoga techniques specialized to the needs of the pregnant woman, including practice and teaching skills for trimester-specific yoga techniques. Appropriate yoga techniques for each trimester, how to practice yoga techniques safely and relaxation and stress management techniques. The training involves the study and practice of the following
Yogic Techniques
or practices with their brief theoretical knowledge about the importance of the name, the technique, salient points, precautions to be taken and advantages of each of the following yogic practices including the techniques of alignment and assistance.
Asanas/postures (Selected asanas in prenatal yoga)
Pranayamas/breathing techniques
Mudras/gestures
Meditative relaxation e.g yoga nidra
Meditation.& mantra chanting
Principles of diet and nutrition
Yoga therapy and safety in pregnancy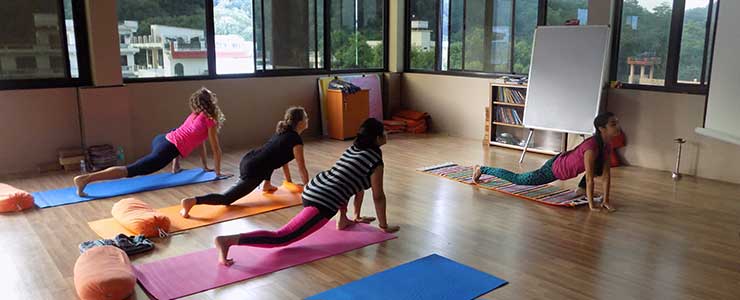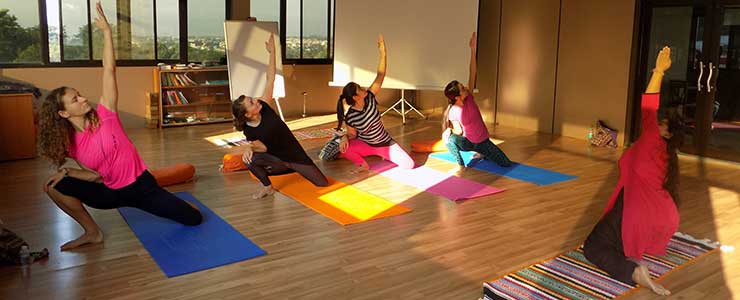 3. Prenatal Yoga Teaching Methodology
In this module, students will learn and experience the teaching skills of presentation & practice of prenatal teaching in yoga
Communication skills in prenatal yoga teaching practice as well as establishment of priorities and boundaries
Teachings skills to address the specific needs of prenatal yoga participants to the possible extent
Preparation of lesson plan for the beginning and/or advanced student during each trimester
Selection & sequencing of prenatal yoga practices
Practical training on class management
Principles of demonstration, observation, assisting and correcting
Qualities of prenatal yoga teacher
The student learning process
4. Anatomy and physiology of prenatal yoga
Human anatomy & physiology with special reference to the pregnancy and reproductive system
Role of anatomy and physiology in prenatal yoga
Normal anatomy and physiology during pregnancy
Functioning during pregnancy, overview of the complications, including miscarriage, premature labour
Energetic anatomy and physiology of yoga and their relevancy in pregnancy such as Chakra, Prana and Nadis
Anatomy and physiology of yogic practices in prenatal yoga
5. Yoga philosophy and ethical preparation for prenatal yoga teachers
Study of Yama Niyama to develope the ethical preparation for prenatal yoga teachers
Study the Bagavad Gita, Ayurveda, ethics and dharma of parents-to-be. Scriptures and pregnancy
Importance of yoga philosophy in prenatal yoga, its scope and significance of yoga in modern life
6. Practicum
Designing and teaching practice of prenatal yoga class
Observation of teaching practice of prenatal yoga class
Receiving and giving feedback. Also includes assisting students while someone else is teaching
Presentations and group discussions and practical evaluation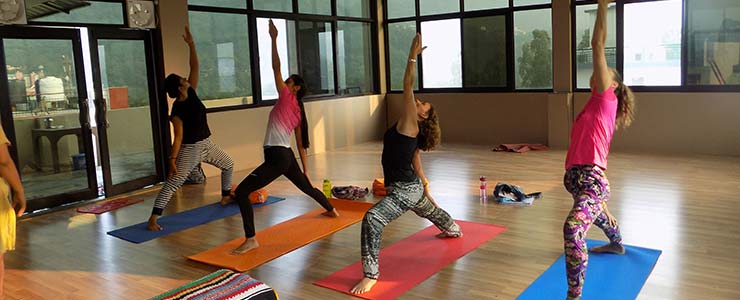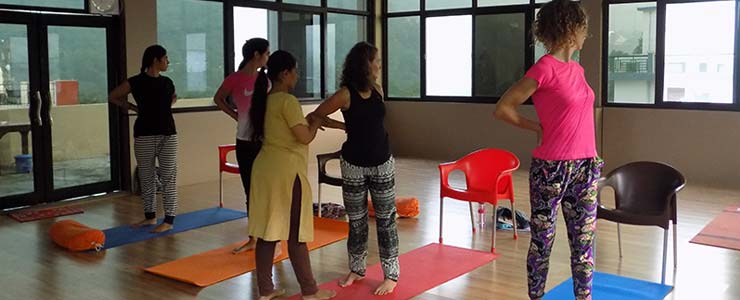 Prenatal Yoga Teacher Training Daily Schedule
Daily schedule of the course is designed to fulfill the objectives of 85 hours syllabus of teacher training programme over a period of 02 weeks.

The schedule may be subjected to any changes/modifications to meet the particular requirements during the course time.


| | |
| --- | --- |
| 6.00 AM - 7.45 AM | Prenatal Techniques, Training and Practice |
| 7.45 AM - 8.00 AM | Tea Break |
| 8.00AM - 9.00 AM | Pranayama |
| 9.00 AM - 10.45 AM | Breakfast and Self Study/Personal time |
| 10.45 AM - 11.45 AM | Yoga Philosophy |
| 12.00 PM - 1.00 PM | Meditation/Yoga Nidra/Mantra Chantings |
| 1.00 PM - 2.30 PM | Lunch Break |
| 2.30 PM - 3.30 PM | Anatomy and Physiology of Prenatal Yoga |
| 3.45 PM - 4.45 PM | Applied Yoga/Lectures/General Background in the Specialty Area |
| 4.45 PM - 5.15 PM | Evening Tea break |
| 5.15 PM - 6.15 PM | Prenatal Yoga Teaching Methodology and Teaching Practice |
| 7.00 PM | Dinner |
Sunday
Optional practice and Extra Curricular Activities:
On Sundays, students will have the opportunity to explore the tourist attractions in and around the Rishikesh such as river rafting, mountain trekking and sightseeing to enjoy their holidays.

Note:
The students will spend 10 hours in contact classes for the observation of teaching practice of prenatal yoga class designed by the by the trainees of the class under the guidance of the lead teacher. These classes are conducted by the trainees as the lead teacher.